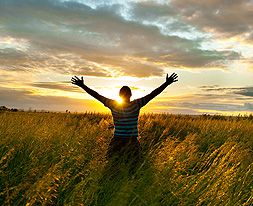 In last week's article, I described hope as the "confident anticipation of something grand." It is fair to say, most people expect the coronavirus pandemic to end. But, as Christians, our hope—our confident anticipation—must not end with the pandemic. It must live on into eternity. Our assured expectation of eternal life with Christ is what sustains us in difficult times.

On March 25, Congress passed an historic $2 trillion relief bill. That day the death toll from COVID-19 in America was about 1,000. A week later, that number had quadrupled.

Earlier this week, the Coronavirus Task Force reported positive U.S. COVID-19 cases could be in the millions and deaths could be in the hundreds of thousands before things settle down. They also reported good news of new testing technologies and heroic efforts to fight the pandemic by healthcare workers, first responders, private citizens, and businesses. For a moment, a silver lining seemed to emerge from the viral cloud engulfing our world. 

Many people will be tempted to place their hope in the silver lining to ease their fears. The problem with silver linings is they go away when the clouds go away.

God does not promise a silver lining. He promises Himself. He never goes away. God promises never to leave or forsake His children.[1] He is with us in the darkest nights and on the brightest days. By giving us Himself in the Person of Jesus Christ, He has given us a living hope.[2] Our responsibility is to embrace it.

Here are three things to remember about living hope:

Living hope is right-now hope.

1 John 3:2 says, "Dear friends, now we are the children of God …" 

As Christians, we do not have to walk through life looking over our shoulders wondering if our salvation is secure. The Bible says, "I write these things to you who believe in the name of the Son of God that you may know that you have eternal life." (1 John 5:13)

Living hope is renewing hope. 

When we are tempted to give up hope, living hope reminds us of God's faithfulness to sustain us and revive us. Lamentations 3:23 tells us that God's compassions are "new every morning …" James 1:2 urges us to "count it all joy" when we "meet trials of various kinds," because the testing of our faith produces perseverance and perseverance will lead to something new, something grand—the crown of life.

Living hope is contagious hope.

Have you ever joyfully anticipated a special event, like a graduation or the arrival of a new baby? The closer you got to the big day, the more excited you became. The more excited you became, the more you shared that excitement with others. Before you knew it, everyone else's excitement seemed to eclipse yours. That's how it is with living hope.

The thought of spending eternity with Christ should generate such joy and anticipation that nothing can shake you to the point of despair. And the joyous expectation of something greater than a big bank balance or good health should move you to tell others how they, too, can have this joy. 

Meditate this week on these words from Romans 8:38-39—"For I am convinced that neither death, nor life, nor angels, nor principalities, nor things present, nor things to come, nor powers, nor height, nor depth, nor any other created thing, will be able to separate us from the love of God, which is in Christ Jesus our Lord."
What a promise!
[1]Deuteronomy 31:8; Joshua 1:9; Hebrews 13:5
[2] 1 Peter 1:3
About the author: Alonza Jones is the co-founder and president of Biblical Marriage Institute. Visit BiblicalMarriageInstitute.org to learn more.
Copyright © 2020 Alonza Jones. All rights reserved.